Finding a new job in a foreign country as an adult, when you don't speak the language or understand the culture is a challenge most people, let alone Americans have and will never experience in their lives. 
Integration into a new society is no easy task, but it can and has been accomplished and with great success in many places. America, of course, is one shining example of this. In Turkey, where 3.6 million Syrian refugees reside – the country which hosts the world's largest refugee population – the opportunity to integrate into society and earn a living is a blessing. 
Rizk for Professional Development has been created to achieve this. This program is one of six institutions launched by the Syria Forum and its mission is to prepare and enhance Syrians'
personnel skills to fit the Turkish job market to help them find employment. The program was established in June 2014 and is free of charge. To date, Rizk has provided over 6,000 jobs for Syrian refugees. 
For those fortunate enough to receive Rizk's services, they have a second chance at building a life for themselves. 
There were three floors in the building. The top floor housed a classroom where Syrians learn Turkish, English and about business.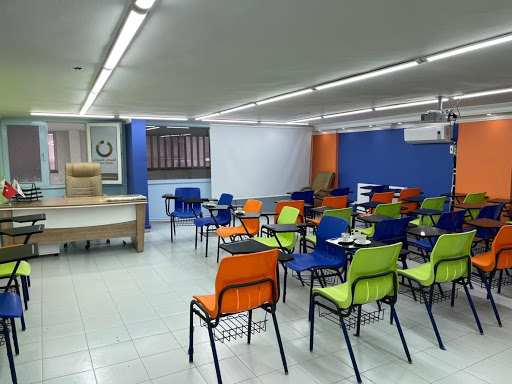 The basement was transformed into a classroom to train Syrians to become seamstresses, hair stylists, learn computer software and the English and Turkish language. The seamstress and hair stylist training was only offered to women. Many believe in traditional gender roles and this still stands in the Syrian culture.
A kitchen where the students can cook and also heat up their meals. Each program takes approximately two months – approximately 200 hours — and once the Syrian graduates are placed in a position, they see a significant increase in their salaries. The manager of this branch gave us a tour and explained to us how Rizk works, gave us a tour of the facility and also imparted on us his own story.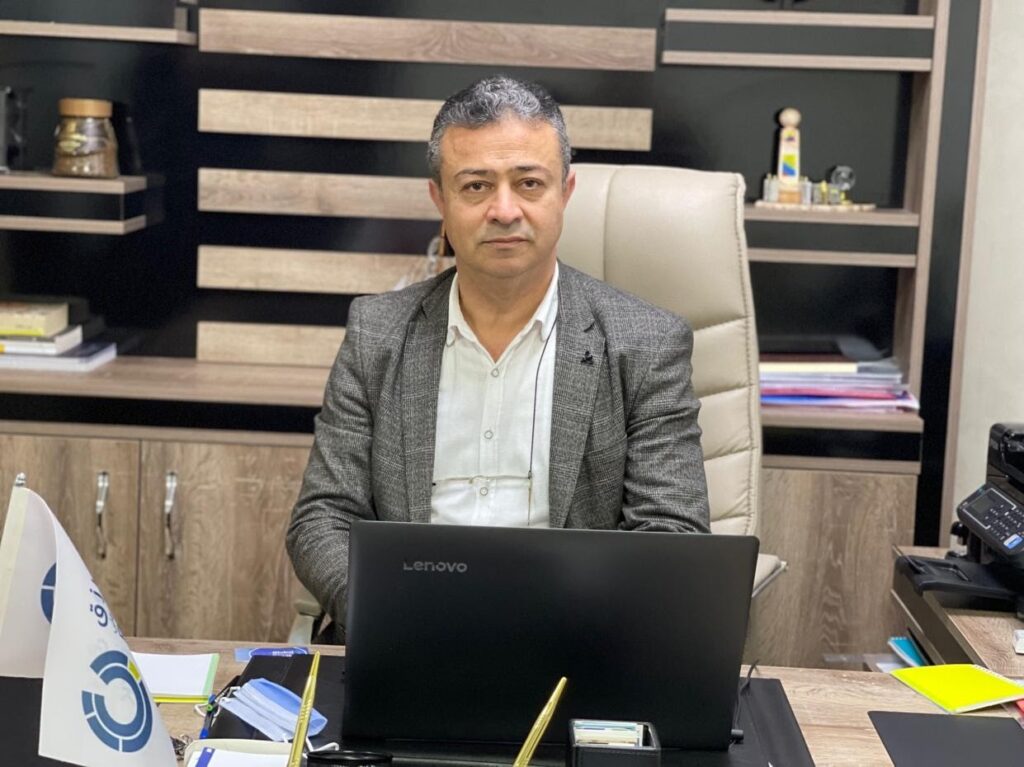 His entire family, himself included, is wanted by the Assad regime. They were fortunate to escape but they will never be allowed to go back to Syria until and unless Assad is removed from power. His whole family is in Turkey, except for one who lives in Germany and another who lives in Ecuador. I have never seen a population of people so spread out across the globe because of a dictator.
In 2011, all their shops in Syria were burned to the ground by Assad's forces. He had to bribe Syrian officials millions of Syrian pounds to get his brothers out of prison. His story is all too familiar to many who have escaped from Assad's clutches. Many, however, who did not have the financial capability to pay, were not as fortunate to pay their way out.
My friend and TRT World Journalist Oubai Shahbandar accompanied me and was translating. I will be eternally grateful to him for his help and true friendship. 
After touring the center, we met with several Syrian refugees who told us their stories of torture, misery and escape from the Assad regime. Several of them were journalists, others were activists and worked in business. All of them were now working or learning at Rizk and helping their fellow Syrians find solace and peace beyond their war-torn country.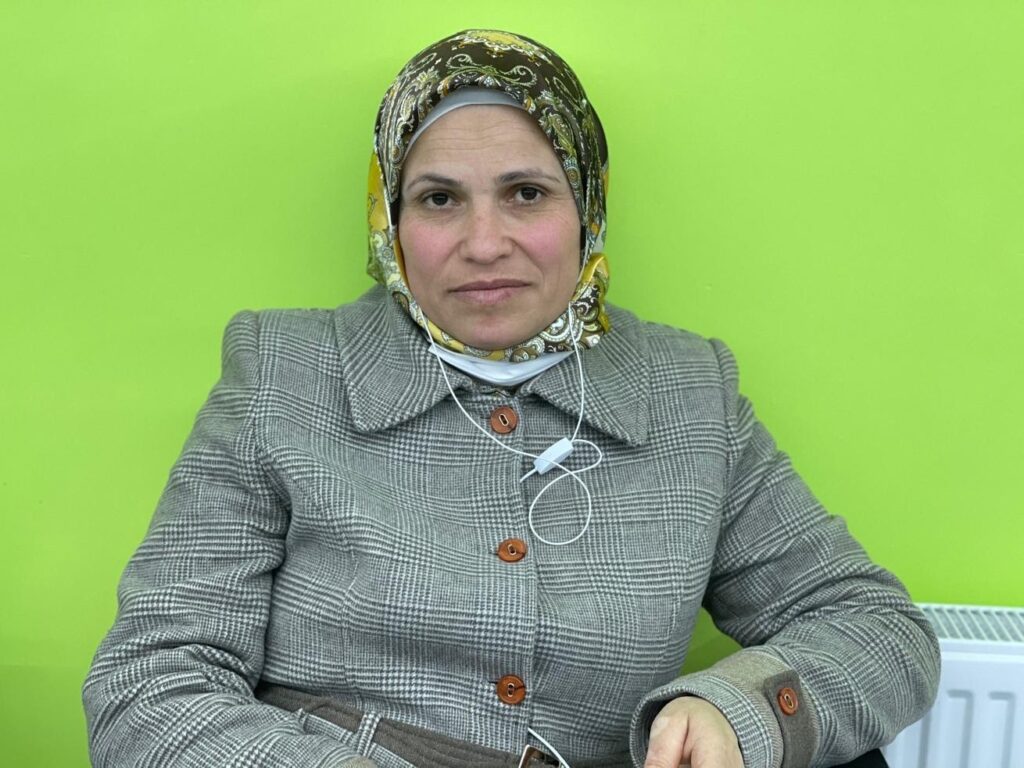 Malakuti told us about how her 15-year-old and 19-year-old sons were both detained by Assad and put into a prison. Her 15-year-old was taken from school. "Until now, I don't know anything about him," she said. Those boys are among many kids who are prisoners of the Assad regime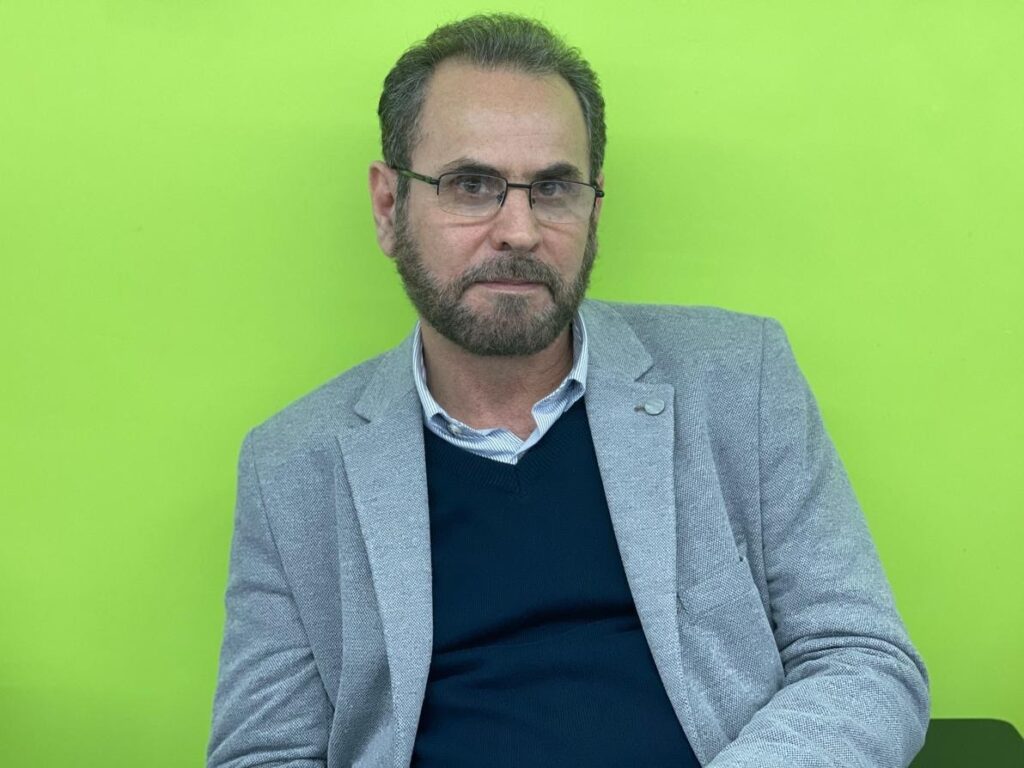 Moataz, who was a journalist in Syria, told us that is the most dangerous profession in Assad's Syria. He had a message for the United States: that it is up to the United States and powerful allies in the West to stand up to the Assad regime and realize that their interests must lie with the Syrian people. The humanitarian issue should be the top priority because the day will come when Assad will fall and the people will be the ones to select their new leader.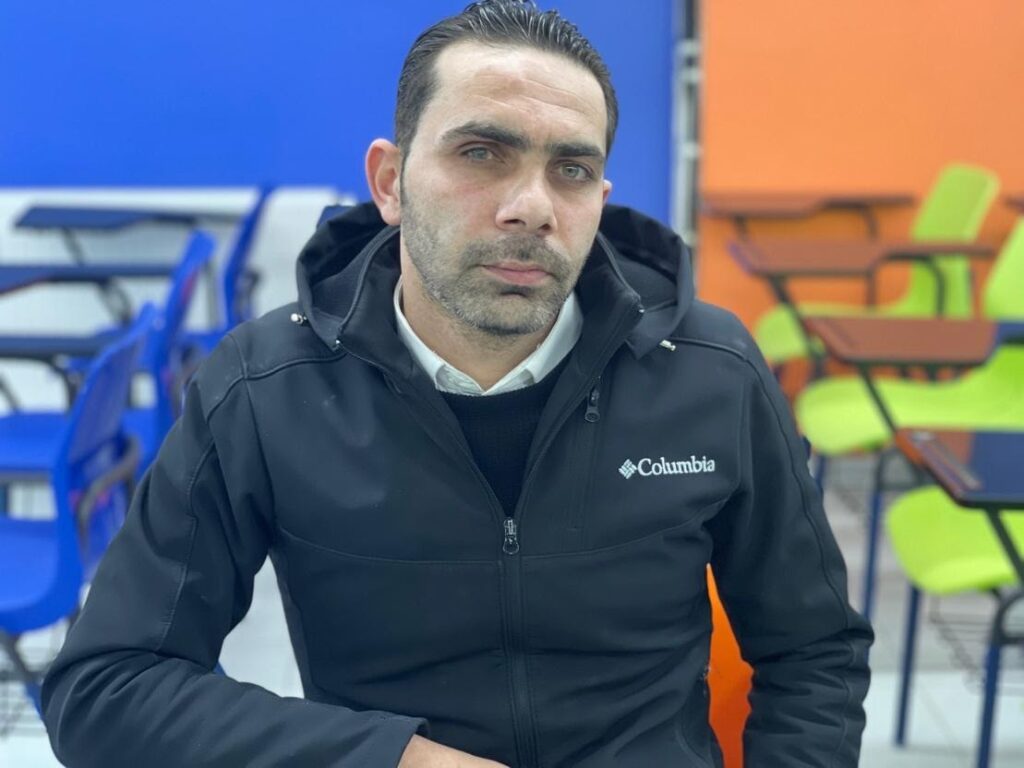 Mahmod lost vision in his eye while being tortured in one of Assad's prisons. He noted that the IRGC and Iranian militias inside Syria are a core cause of the conflict as they continue to embolden Assad. "ISIS is as dangerous as the Iranian militias," he said, noting that the Iranian militias can be found in almost every part of the country today.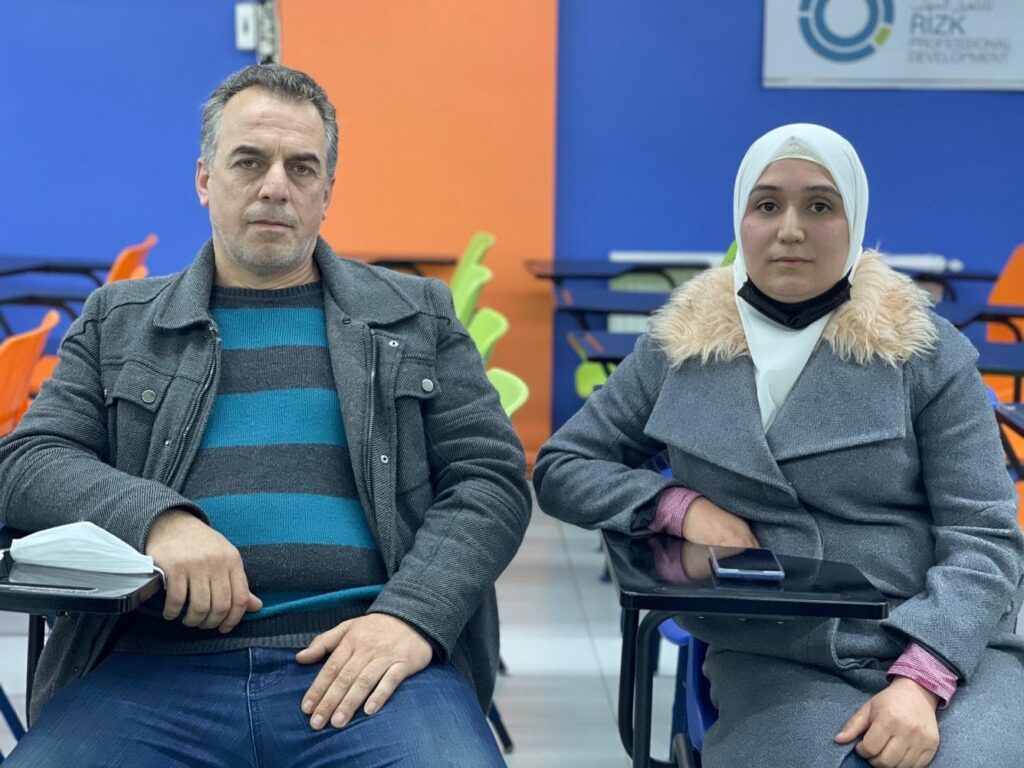 Noura and Rihan are married. They lost one of their children during one of Assad's Russian-backed chemical sarin attacks. She was only 2.
Mormons, another fellow journalist was a firecracker! Her message was also delivered with equal strength. She described just one of many "unforgettable" horrific scenes from her time in prison. "I witnessed a massacre from inside the prison… there were 25 young men who were handcuffed and blindfolded and they entered the torture chamber in line. I watched them get tortured." She said after they were dead, the guards said "he has rotted, roll him in a blanket and that's it." She explained that in their dictionary, "rotten" or "spoiled" means dead "so they don't even respect them by saying 'he died' but rather they say 'he has rotted.'" Mormons added, "I can still hear the painful screams of these young men." What she said next struck a chord. She said what the Syrian people are experiencing right now is a Holocaust; a modern-day Holocaust. And she is right. "Until when are we going to live in pain? For how much longer are the Syrian people going to suffer and live this tragedy?" Her questions are valid and they remain to be answered.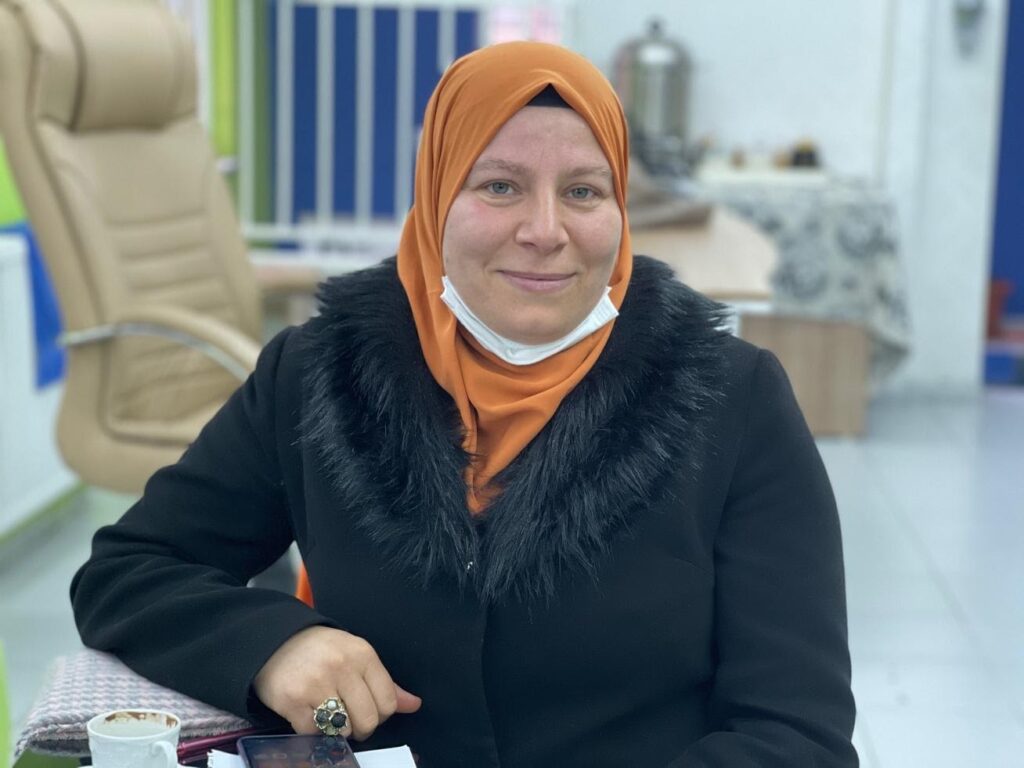 These beautiful souls are still holding onto hope and fighting for the day they may return to their beloved Syria. Until that time, those Syrian brothers and sisters who are the recipients of their help and kindness at Rizk can rest assured that help and a better life is on the horizon.
C4SSA Holds Powerful Syria Stabilization Conference with Deputy Assistant Secretary of State Aimee Cutrona

Last month, Citizens for a Secure and Safe America (C4SSA) held a powerful conference focused on the topic of "Syria Stabilization: Opportunities, Challenges, and US Policy Options" which featured Deputy Assistant Secretary of State for Levant Affairs Aimee Cutrona, Senator Robert Menendez (D-NJ), Senator Todd Young (R-IN), Senator Jim Risch (R-ID) and Congressman Joe Wilson (R-SC). Jennifer Cafarella, Inaugural National Security Fellow at the Institute for the Study of War (ISW) moderated the event along with C4SSA's Spokesperson George Stifo and C4SSA's Secretary Alia Natafgi.

C4SSA's President Dr. Bakr Ghbeis opened the event with poignant and heartful remarks, noting that the voice of the Syrian people has been silenced by Bashar Al-Assad and as such, it is the Syrian-American diaspora that speaks for the Syrian people. "We speak for the Syrian people," Ghbeis said, a point he eloquently laid out in an opinion piece he wrote for the National Interest. 

"We will not stop working on behalf of our homeland until she is free." Millions of Syrians have been displaced, both internally and as refugees, because of Assad's war on his own people. He noted that in order to maintain his power, Assad "has killed, imprisoned, tortured, displaced millions of Syrians… the effects of his actions have spread beyond Syria to her neighbors." Ghbeis noted that "the diplomatic track to a political transition in Syria and a new day remains hostage to the regime and its enablers. We know who they are. To counter this, however, we must work to stabilize and secure those areas of Syria that are not in the regime's control: One family, one community, one town at a time. This is the way to take Syria back, I believe, to turn back the injustice, oppression, ethnic cleansing and demographic changes brought on by the regime and its supporters." Northeast Syria is an example of a region where stabilization efforts were successful; a point Dr. Ghbeis made during his speech while asking for help from the Biden administration and its supporters to achieve this. "Without doubt, what is occurring in Syria is a genocide and it must come to an end after a decade of endless pain and suffering of the Syrian people.
​
Deputy Assistant Secretary for Levant Affairs in the Bureau for Near Eastern Affairs Aimee Cutrona addressed the audience as well. Her remarks provided hope for those in attendance that the Syrian people are not forgotten by the Biden administration and that they are committed to finding a solution and hopeful end to the conflict there.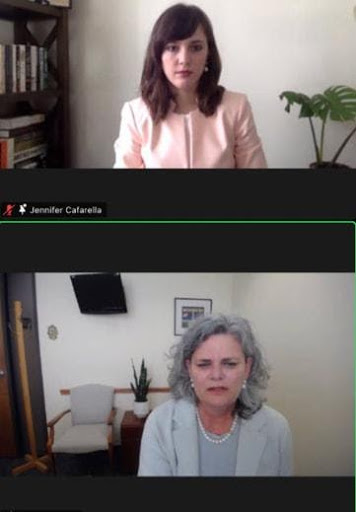 "The US government continues to work with partners toward a political solution in Syria. The United States believes that stability in Syria – and the greater region – can only be achieved through a political process that represents the will of all Syrians. And we are committed to working with allies, partners and of course the UN to ensure that a durable political solution remains within reach. The United States is also deeply concerned about the humanitarian situation and committed to helping lead the humanitarian response in Syria. The current needs for humanitarian assistance are dire and providing humanitarian assistance to Syria is one of this administration's top priorities," Cutrona said.
She noted the administration's work to defeat ISIS and also addressed the issue of internally displaced persons (IDPs) and how defeating ISIS was intrinsic to seeing IDPs return to Syria. Cutrona also condemned the use of chemical weapons against the Syrian people.
"The United States remains committed to standing with Syrian survivors of the Assad regime's atrocities, some of which rise to the level of war crimes and crimes against humanity as we promote accountability for the Assad regime's crimes." She noted there are at least over 100,000 missing Syrians, including children among them. 
"I want to be clear: no amount of disinformation or conspiracy theories or distortion of the facts by the regime or its enablers can argue away Assad's crimes." Cutrona added, "the United States is committed to supporting the Syrian people and a peaceful resolution to the conflict that represents the will of all Syrians."
Senator Menendez, Chairman of the Senate Foreign Relations Committee, provided a letter to C4SSA expressing his unwavering "support and admiration" for C4SSA's cause. He "Bashar Al-Assad, backed by his Iranian and Russian enablers, has fomented a reign of fear, repression and torture against his own citizens. He has not only cooperated with terrorists to incite violence, he has murdered innocent civilians in cold blood and barbarously bombed hospitals and medical workers to prevent them from providing relief."
Menendez added, "I look forward to continuing to work with you on behalf of the people of Syria to ensure the Assad regime, their enablers, and other human rights violators in Syria are held accountable and that the Syrian people see justice done in their names." 
​Senator Jim Risch (R-ID), ranking member of the Senate Foreign Relations Committee, noted that "the Biden administration has a unique opportunity to correct the mistakes of the past," referring to America's lack of action against Assad when he used chemical weapons against the Syrian people.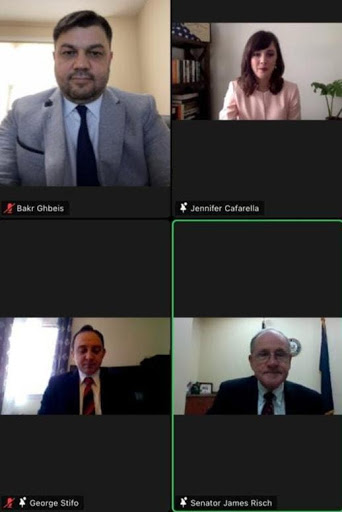 Risch was proud to champion the Caesar Civilian Act which authorized sanctions against the Assad regime and its backers. "This important work must continue, and we remain committed to seeking accountability for the regime's atrocities."

Cafarella noted that Assad intends to hold a sham presidential election next month and that the United States has rightly noted that this election will be neither free nor fair. 
​
Congressman Joe Wilson (R-SC), who serves on the House Foreign Affairs Committee, cited part of a speech delivered by former Obama appointed Ambassador Robert Ford who stated that US taxpayer dollars should not go to UN entities in Syria that have been co-opted by the Assad regime. The Assad regime is well documented as having stolen humanitarian aid meant for the Syrian people and using it to enrich his inner circle and those who support his nefarious reign. Wilson noted, "There is no solution to the ongoing crisis that involves the illegitimate Assad regime remaining in power. Atrocities should not be rewarded or forgotten."

The conference was a testament to the bipartisan efforts to see an end to the Syrian people's strife and to create a path for stabilization in Syria.

On Thursday, President Joe Biden released a strong statement condemning the Assad regime's "brutality and repression of the Syrian people, who have called for freedom and a representative government" and continuing "the national emergency declared in Executive Order 13338 with respect to the actions of the Government of Syria." Biden added, "the United States condemns the Assad regime's, and its Russian and Iranian enablers', brutal violence and human rights violations and abuses." He ended his statement by saying, "the United States will consider changes in policies and actions of the Government of Syria in determining whether to continue or terminate this national emergency in the future." This effectively continues the sanctions that have already been implemented on Syria. History has proven that sanctions work. It remains to be seen how this executive order can function within the framework of a stabilization plan for the Syrian people.
Please follow and like us: